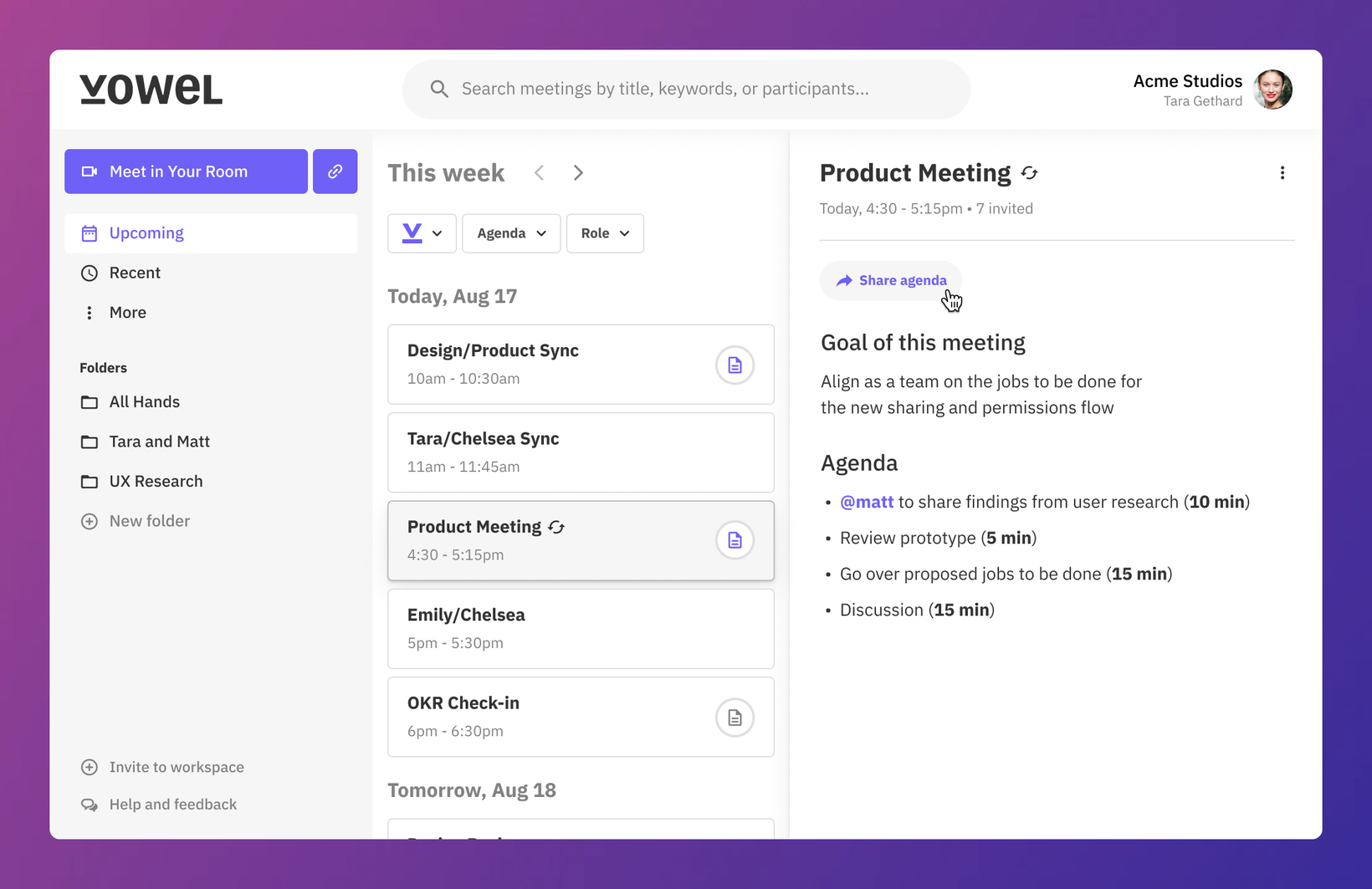 DATE:

AUTHOR:

The Vowel Team
🚀 New
🗓 Meeting Management
Prepare for great meetings
DATE:
AUTHOR: The Vowel Team
We're on a mission to make every meeting more inclusive and worthwhile—before, during, and after.
A few weeks ago we overhauled your in-meeting experience to give you more control over how you show up, help you stay present, and make your voice heard.
Now we're bringing you new features to help you and your teammates better prepare for upcoming meetings.
That's because a great meeting starts with a great plan.
When you know how you'll spend your time, and everyone shows up prepared for discussion and decisions, you're able to make better use synchronous time—a commodity in short supply these days.
Here's the tl;dr on what we shipped:
One click access to Agendas from your Google Calendar

A redesigned view of upcoming meetings to help you power through meeting prep

A collaborative Agenda editor with support for recurring meetings

More insightful notifications including Agenda sharing and daily digests
‼️ Note: existing users must update their Google Calendar permissions to access the new calendar functionality. To do so, go to your Upcoming tab and click on any of the "Make Vowel Meeting" links. From there, you'll be prompted to update your Google permissions.
Create your agenda as you schedule your meeting
When you schedule a Vowel meeting from Google Calendar, you'll now see a linked Agenda. Click the link to jump into Vowel in advance of your meeting. Meeting invitees simply need to click the carrot to access the Agenda link from the Calendar invite.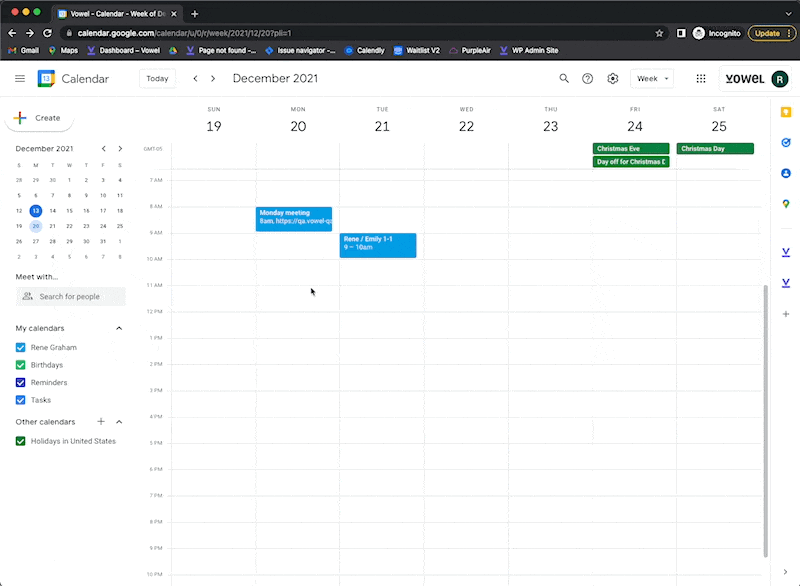 There, you and the folks you're meeting with can collaborate on a plan. Use one of our pre-built templates or create your own. Assign topics to attendees or note where people should provide a status update in advance. When it's time for your meeting, the Agenda will automatically populate in the collaborative notepad for easy reference and structured notetaking. Be sure to make a section for Action Items you'll want to track as the meeting happens. ;)
Get everyone's input
After you've created your plan for the session, share your agenda with the other invitees. They can add updates and discussion topics, too. It's a great way to share status updates that don't need synchronous air time.
You'll be able to see your teammates editing in real time, and to check in on who's added updates since you sent out the agenda.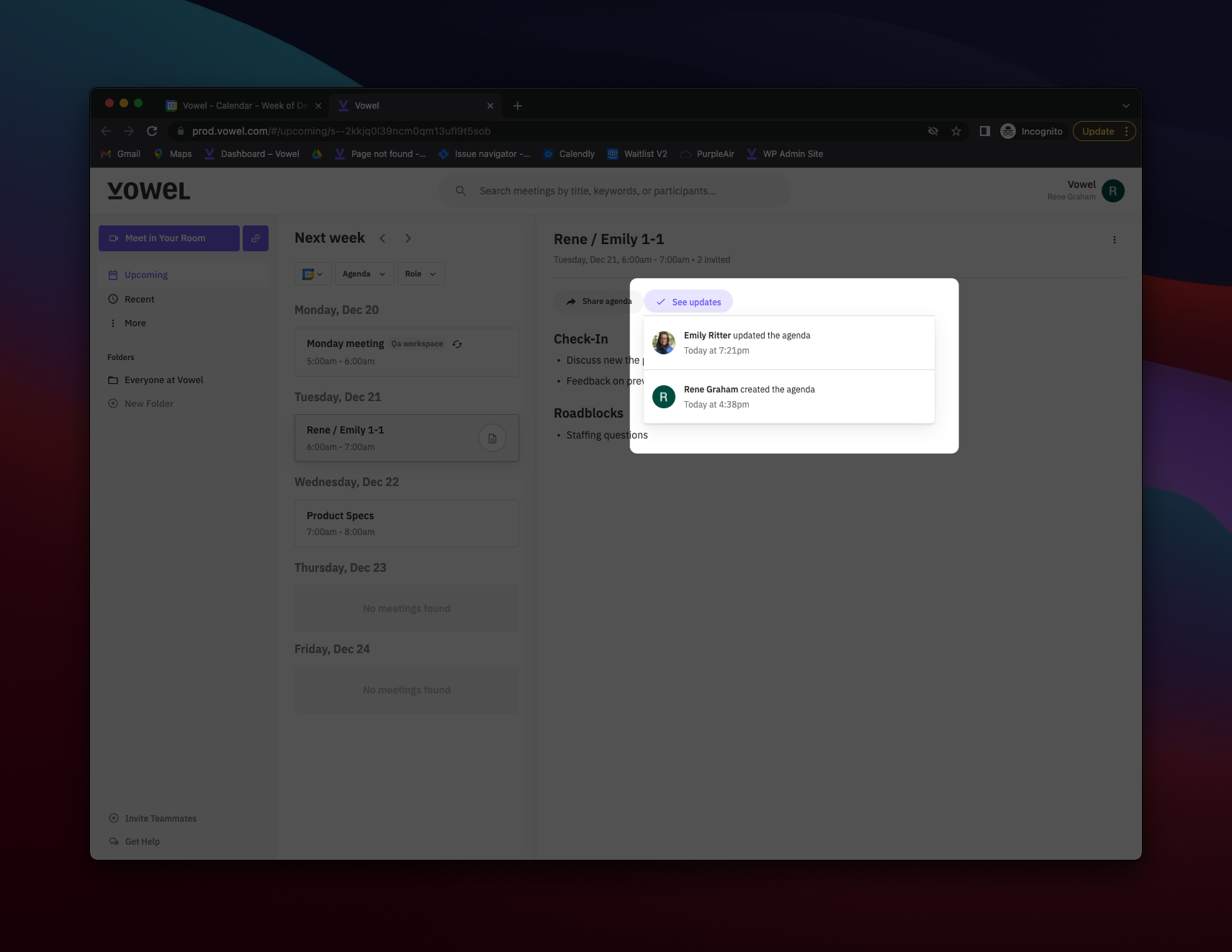 Fly through meeting prep
The new "Upcoming" meetings view allows you to prepare for your meetings … like a BOSS.
1. Use the filters to quickly identify meetings that need your attention. Find meetings with agendas and those without (are you ready to instate a "no agenda, no meeting" rule? We are!), or ones where you're the organizer.
2. The icon gives you context on meetings with prepared agendas (the icon turns purple when there's agenda someone else made for you).
3. No icon, no agenda. Quick! Snag a prebuilt template or start from a blank page.
4. Switch meetings to Vowel in a click. Then you'll be able to add agendas, review the live transcription, and share on-demand recordings.
Plus, when you use Vowel for recurring meetings, you can access previous weeks' notes as you prep for the next session. Never again forget what you agreed to or wanted to follow up on.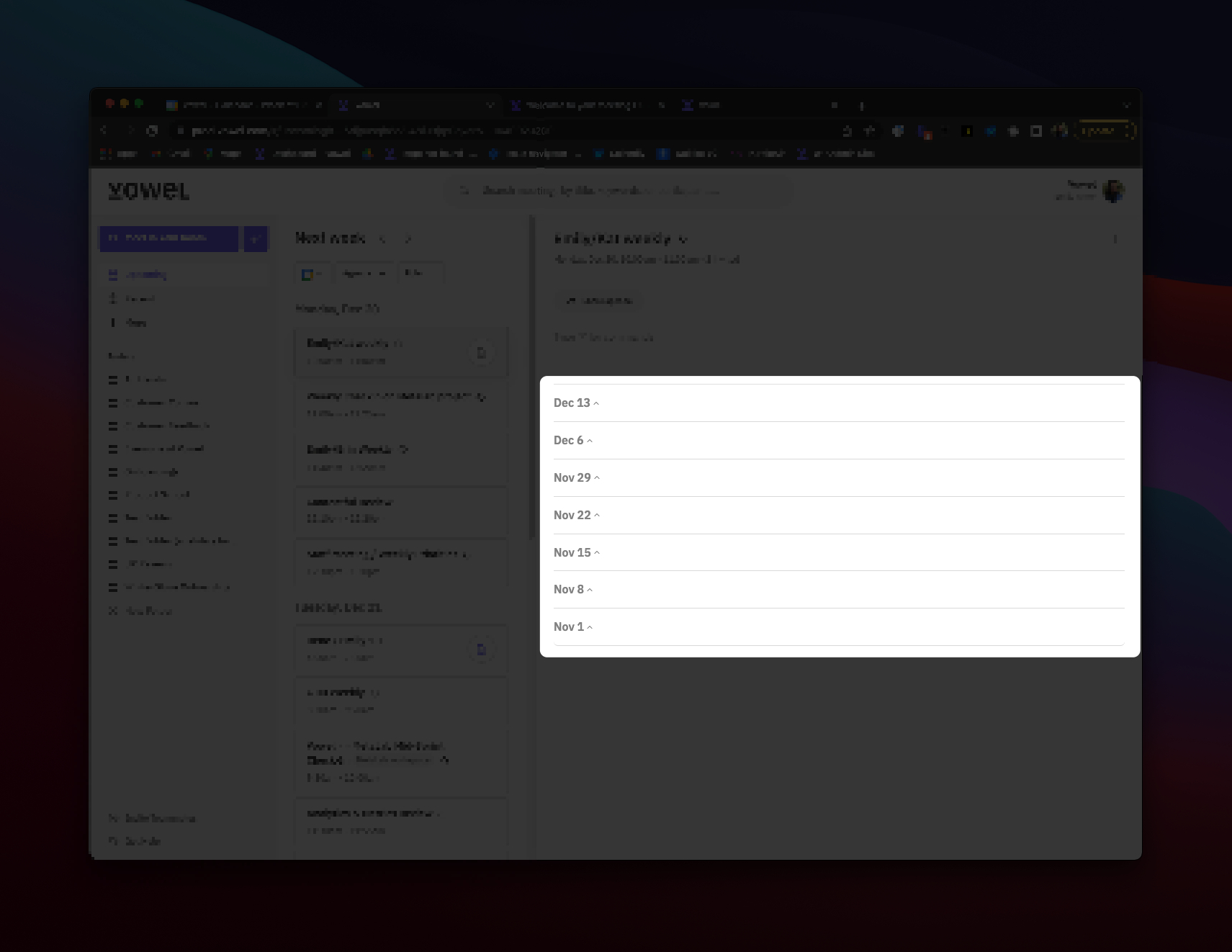 Plus, a new end of the day recap
In addition to all the new tools for preparing for upcoming meetings, we've recently shipped new meeting summary emails that land in your inbox at the end of the day. Use this email to access missed meetings to watch on demand, review action items and notes from meetings you attended, and click into agendas for tomorrow's session.
Let us know what you think!
As with every release, we're excited to hear your feedback on what we shipped and ideas for where you'd like to see us head next. Here's to more inclusive and worthwhile meetings in the new year!