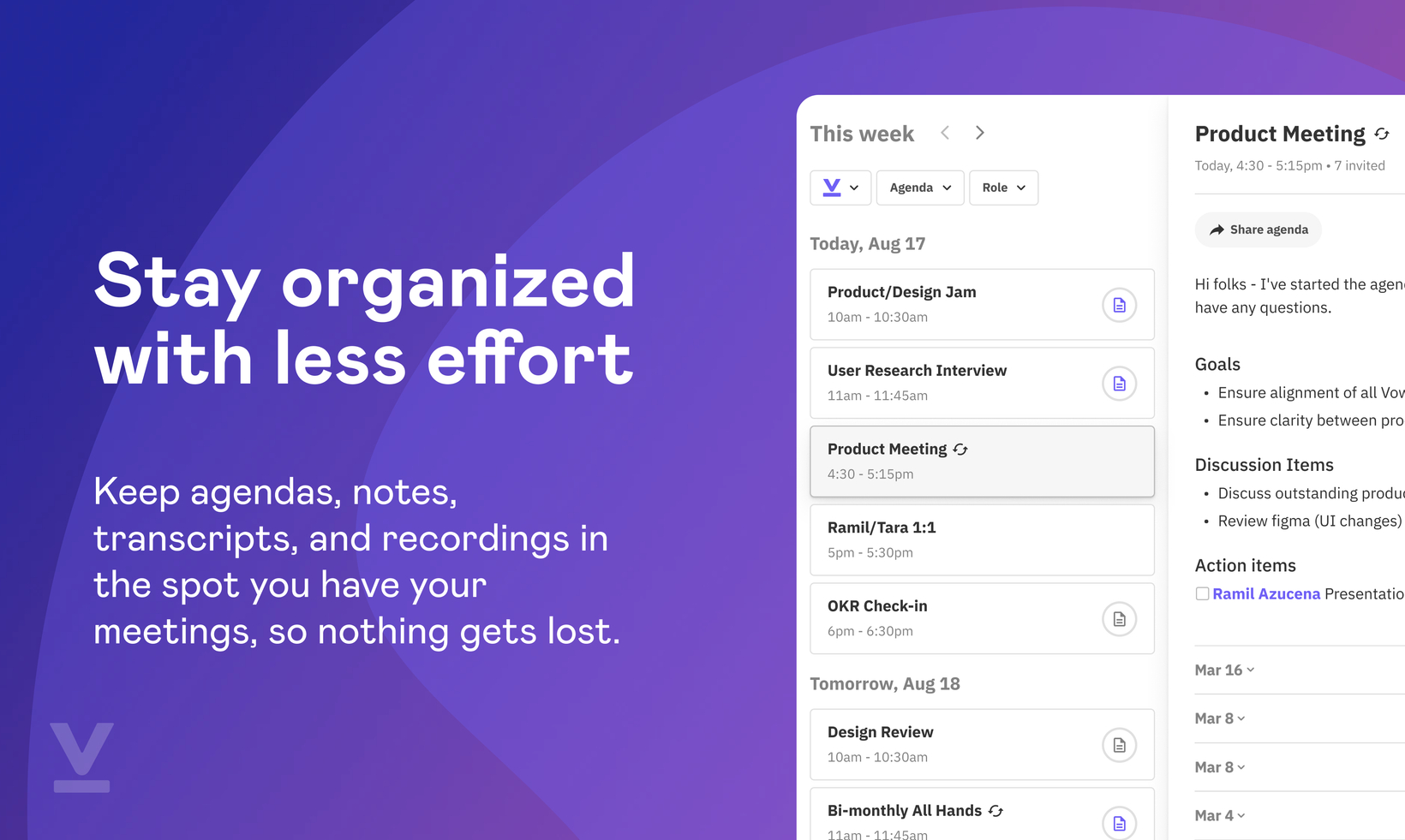 DATE:

AUTHOR:

The Vowel Team
📣 Vowel News
🚀 New
✨ Improved
🤝 In-Meeting
Vowel 1.0 is launched — plus open signups!
DATE:
AUTHOR: The Vowel Team
March 29th was an exciting day for Vowel — we launched out of private beta (anyone can sign up now!) AND we won Product Hunt's Product of the Day + Product of the Week for our 1.0 release. 🎉
Along with the pre- and post-meeting work we've highlighted in other releases — collaborative agendas, recurring meeting support, talk time tracking, and instant recordings + clips — Vowel 1.0 includes:
Agenda timers

Multiple transcription languages (+ improved transcription!)

Faster collaborative notes

Instant post-meeting recaps

Meeting support for up to 50 people
Here's a rundown of how these features will make your meetings more productive.
Agenda timers
Stay on topic and prevent meetings that drag on by adding timers to your agenda items in one click.
You can do this from the Upcoming tab (when you create your agenda) or during the meeting on the Shared Notes panel. Type /timer and set the number of minutes — then, when you're ready to start the timer in-meeting, click the play button.
The timer will give you a warning when there's one minute left to go and beep when time is up. Learn more about agenda timers here.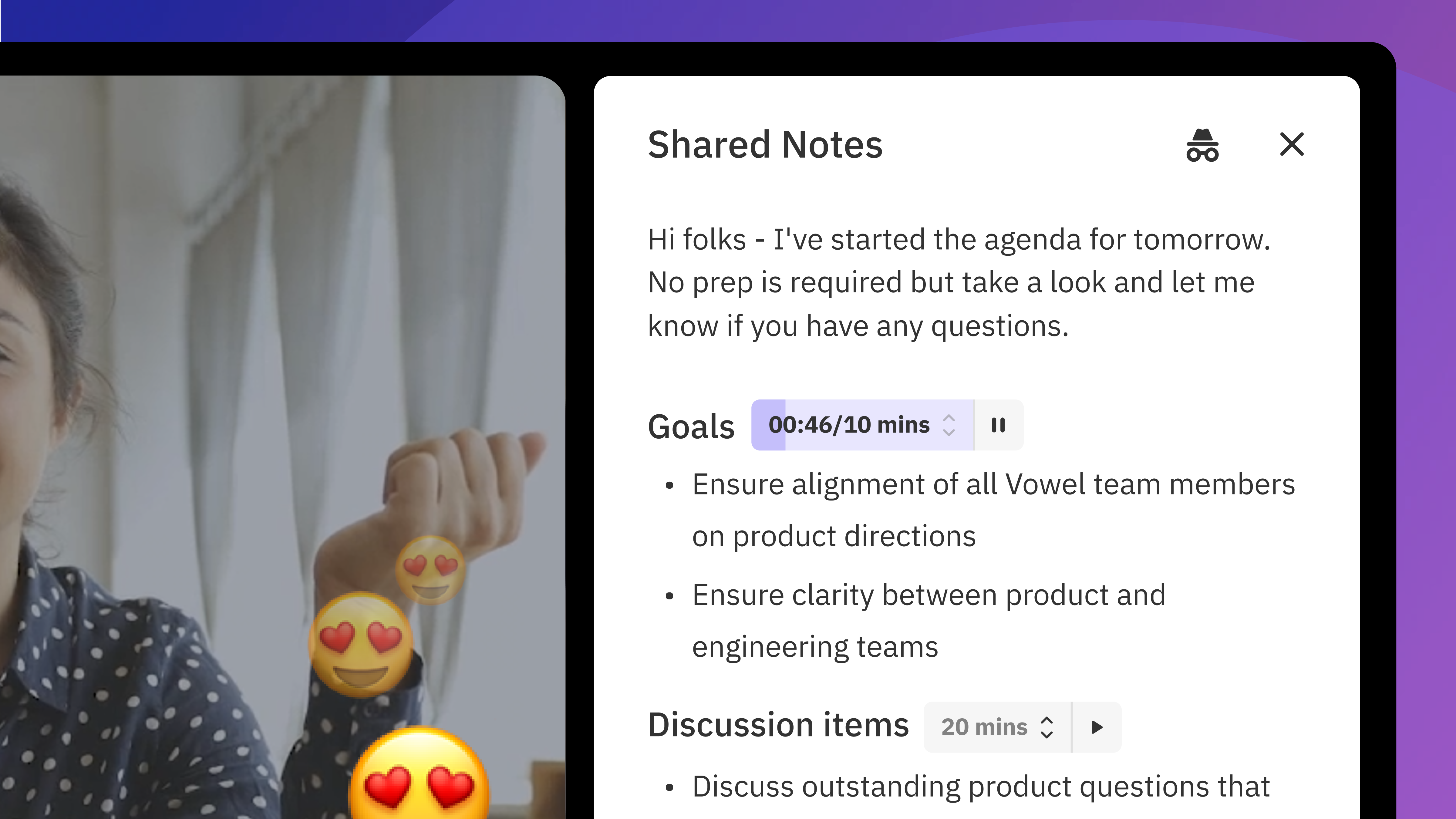 Multiple transcription languages
We're happy to announce Vowel has gone multi-language! You can now choose from 9 languages for live transcription (English, Chinese - Mandarin, French, German, Italian, Japanese, Portuguese, Russian, Spansih) and 4 dialects of English (U.S., U.K., India, Singapore).
You can change the transcription language in your Workspace settings or from your upcoming tab. More languages to come!
We've also been working on making the transcription accuracy better, so you should notice improvements in your meeting transcripts.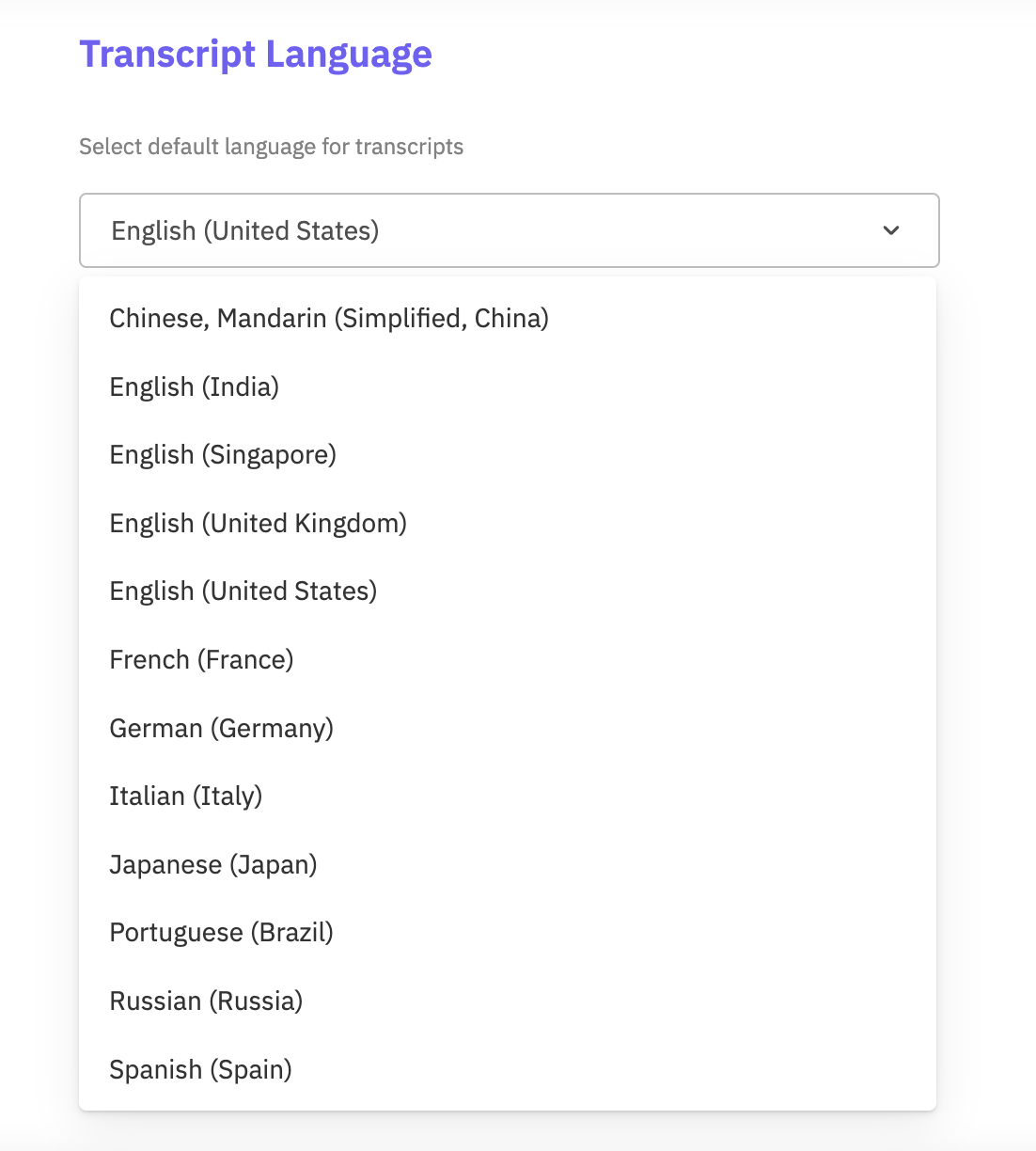 Faster shared notes
Collaborative notes are a big part of meeting productivity— being able to track ideas, questions, action items, and decisions in one central (visible!) spot is magic.
With the 1.0 release, the Shared notes panel in-meeting is faster, so multiple people can type at once no problem. And, as always, all notes are time-stamped to the transcript for easy post-meeting navigation and context.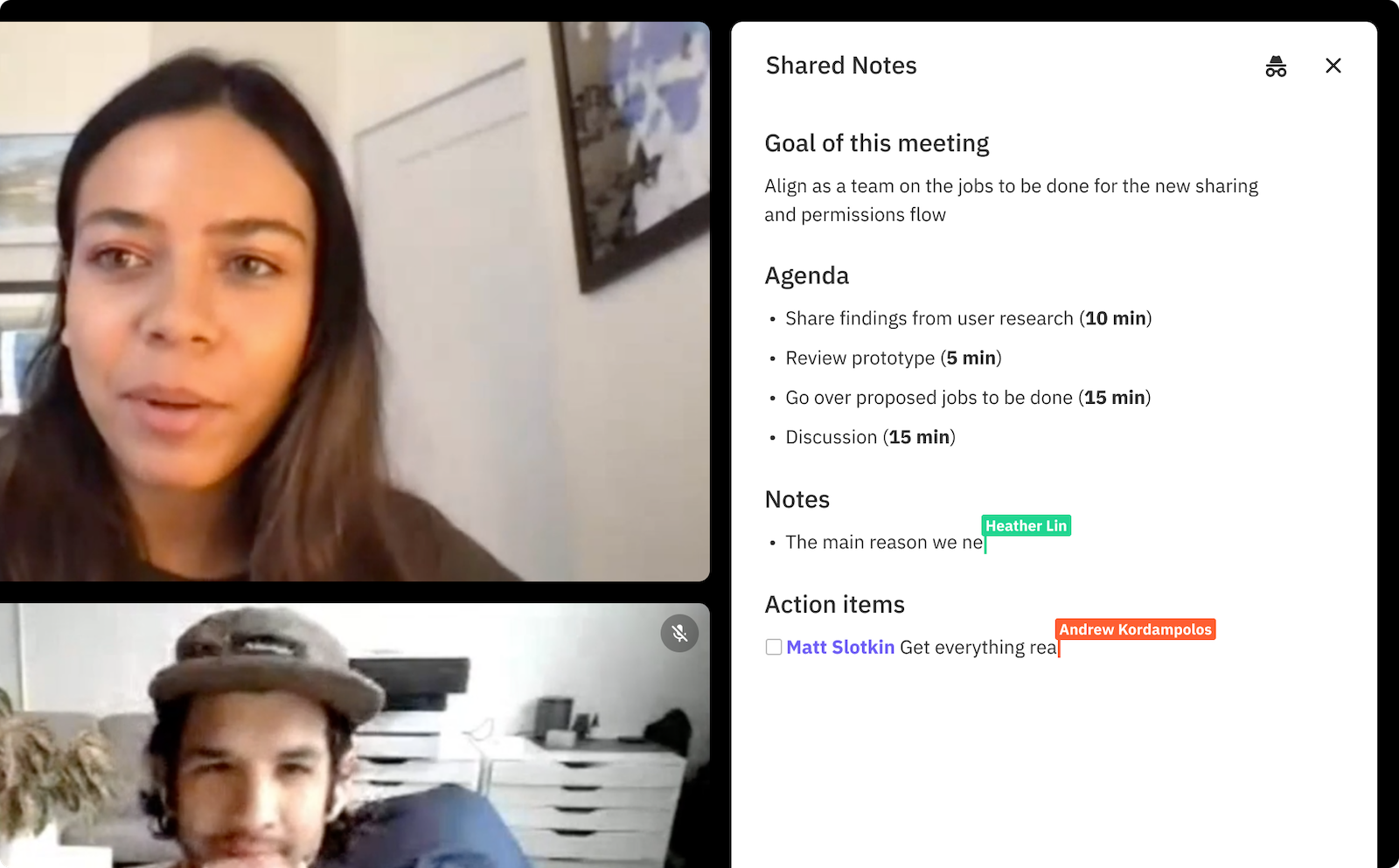 Post-meeting recaps
When you end a meeting, you'll see a whole new post-meeting recap that includes:
A summary, where you can quickly fill out what happened in the meeting

Action items that were captured

Shared links

Participants with talk times

*Coming soon* Bookmarks
You'll also see this recap whenever you click a past meeting in your Recent tab.
Support for up to 50 people
We now support video meetings of up to 50 people (up from 25). Bigger meetings, here we come!

P.S. With Vowel out of closed beta, anyone can sign up and get started in a couple of minutes. If you love the product, please tell your friends and co-workers!